Submitted by Andreas Wunsch on Friday, May 31, 2019 - 08:53
The Programme for this Years Annual Scientific Conference & AGM 2019 has been finalized and published together with the Call for abstracts for poster contributions.
The online Registration is currently being set up to become functional shortly, a separate notification will be sent to the ECVPH membership once active.
Submitted by Andreas Wunsch on Wednesday, December 5, 2018 - 00:21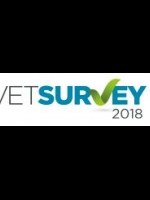 Supported by the EBVS VetSurvey 2018 is the second edition of the FVE Survey of the Veterinary Profession in Europe.
FVE with the support of MSD Animal Health EURAM is carrying out the second edition of VetSurvey, a study about the veterinary profession in Europe.
Submitted by Andreas Wunsch on Monday, November 5, 2018 - 11:47
EXAM DATES in 2019 !
1st. TERM: application deadline >> December 1st. 2018!
WRITTEN: 3. April 2019 - ORAL: 4. or/and* 5. June 2019
2nd. TERM: application deadline >> June 1st. 2019!
WRITTEN: 25. September 2019 - ORAL: 26. or/and* 27. November 2019
*depending on number of candidates!
Venue for ORAL part, to be reconfirmed and published at a later stage!
Upcoming Meetings & Events
ECVPH AGM & Annual Scientific Conference
The Annual Scientific Conference and AGM 2019 will be held in Edinburgh/UK from 02-04. October 2019!
Date:
Wed, 02/10/2019

to

Fri, 04/10/2019
Venue:
John McIntyre Conference Centre
Edinburgh
United Kingdom
Workshops for ECVPH Residents
There are no upcoming workshops at this moment.