When:
Wednesday, October 17, 2018

to

Friday, October 19, 2018
Description: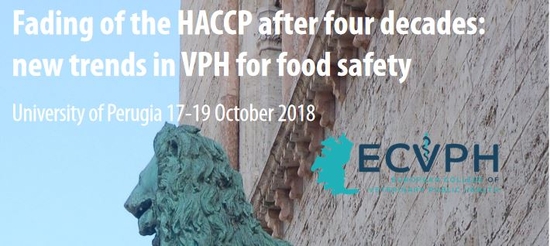 Perugia will host the ECVPH Annual Scientific Conference and Annual General Meeting 2018, at the University of Perugia from 17th to 19th October 2018.
Located north of Rome, in central Italy, Perugia was founded between the VI and V century BC and offers all the advantages of a large city without share the usual metropolitan problems. There is also an airport that can be reached in less than 20 minutes.
The University of Perugia was founded in 1308 by Pope Clement V and Perugia is also home of the prestigious University for foreigner students.
In October Perugia is also the scenario for the Eurochocolate Festival, when the city center is infused by every sort of chocolate fragrances.
The ECVPH Annual Scientific Conference and AGM 2018, will be part of a context that has always been an example of the perfect blend of science and culture. The organizing committee hopes that event in this opportunity will enable the participation of qualified speakers to offer ideas and knowledge to the participants.
We like to welcome you with a sentence by Barnabas Suebu, governor of the Indonesian province Papua until 2011 and "Hero of the Environment" for the Times magazine in 2007: "Think big, start small, act now. "
Beniamino Cenci-Goga and Maria Francesca Iulietto
Local Organising Committee ECVPH AGM 2018
General information & Programme
The Conference Brochure (which will continuously be updated!) contains general information about the Annual Scientific Conference of the ECVPH (Introduction, Venue, travel and accomodation) as well as information on registration, poster submission and the (draft) Conference Programme.
as of  21. August 2018!
This document contains relevant General Information on the Conference venue, accomodation, "how to get to Perugia" etc.
Registration/Conference Fees:
EARLY bird (prolonged until 15. Sept. 2018!): Diplomates € 250,--/Non Diplomates € 300,--/Residents & CM €150,--
LATE registration (after 15 Sept. 2018): Diplomates € 300,--/Non Diplomates € 350,--/Residents & CM €200,--
CALL for Poster Abstracts: (Closed!) Poster submission Deadline: 20th. July 2018!
Information on Posters and a template for submission of poster abstracts is available for download below!