When:
Wednesday, October 17, 2018

to

Friday, October 19, 2018
Description: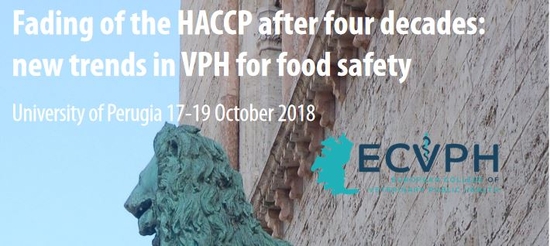 Perugia has been hosting the ECVPH Annual Scientific Conference and Annual General Meeting 2018, at the University of Perugia from 17th to 19th October 2018.
The ECVPH Annual Scientific Conference and AGM 2018, has been part of a context having always been an example of the perfect blend of science and culture.
In front of an audience with more than 120 participants expectations by the organizing committee hoping that this event will again enable the participation of qualified speakers to offer ideas and knowledge to the participants have been fully met !
Already now looking forward to next Years Conference in Edinburgh (2-4. October 2019) and in order to identify opinions and perception from participants a feedback form will be sent shortly to all who have been present in Perugia. A more detailed report will be provided here and in the upcoming e-Newsletter in due course!
Congratulations to all involved and many thanks to the local Organizing Committee ECVPH AGM 2018 for their efforts and the successful performance!
General information & Programme
Registration/Conference Fees:
EARLY bird (prolonged until 15. Sept. 2018!): Diplomates € 250,--/Non Diplomates € 300,--/Residents & CM €150,--
LATE registration (after 15 Sept. 2018): Diplomates € 300,--/Non Diplomates € 350,--/Residents & CM €200,--
CALL for Poster Abstracts: (Closed!) Poster submission Deadline: 20th. July 2018!
Information on Posters and a template for submission of poster abstracts is available for download below!
Download oral presentations and Posters (as available and authorized by speakers!) 
It was a pleasure to seeing you in Perugia!
Oral presentations (as authorized for publication!)
Selected Resident´s presentations - Posters
Posters (as authorized for publication!)